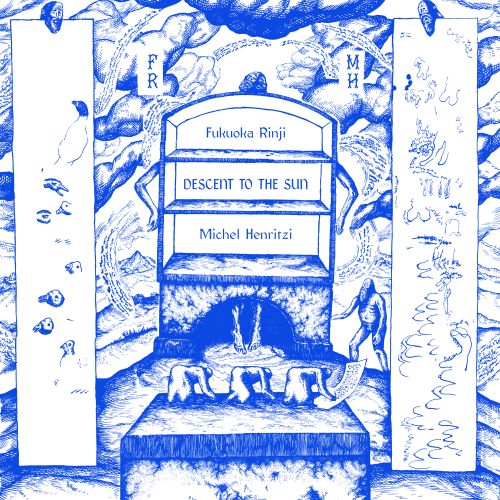 Avant-garde, psychedelic, noise- spectral music made of repetitive patterns that remind us of Tony Conrad.

Rinji Fukuoka is one of the iconic figures, along with Makoto Kawabata or Keiji Haino, of the psychedelic japanese rock. He is the founder of the bands Overhang Party, Majutsu No Niwa, Tangerine Dream Syndicate and he also plays with Sachiko and Masayoshi Urabe.
Michel Henritzi is a member of the noise combo Dustbreeders. He also regularly plays as a duo with Junko (from Hijokaïdan). He played too with Jojo Hiroshige, Masayoshi Urabe, A Qui Avec Gabriel, Tetuzi Akiyama, Tamio Shiraishi, Nihilist Spasm Band.
This is the 3rd opus from the Rinji Fukuoka & Michel Henritzi duo : "Descent to the Sun" is a tribute to Henry Flynt and to the Dream Syndicate ; here is a music from the spheres as soon as they start rotating like dervishes, here is a total psychedelic immersion, a velvetian implosion. Rinji Fukuoka's violin combined with Michel Henritzi's lapsteel strings draw dark coloured sonic mantras where harmonic ghosts saturated by electricity are dancing. Both of them provide an improvised ecstatic music which seizes the idioms of a catatonic folk, of an abrasive rock, of an incandescent psychedelism. Here, the growing time tends towards infinity while darkening our perception through tiny variations of colours just like an infinite drone do. Here comes a spectral music made of repetitive patterns that remind us of Tony Conrad's one, a sonic hypnosis that opens an abyss through our understanding, or is it a thunderstorm ? Rock around the clock as time is now dying from this psychedelic trip.
BBLP 021 (LP)
Paypal to bambalam@bambalam.com